Angel Oracle Cards 101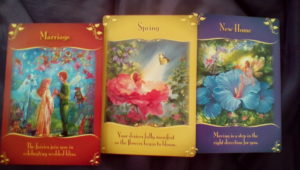 Are you looking for reliable guidance for yourself and your loved ones?  Angel oracle cards are an easy, safe and fun way to connect to your guardian angels who have messages and advice for you.  No experience is required; just a desire to connect with your helpers and higher self.
Angel Therapy Practitioner(®) Kelly Patterson will teach you how to work with angel oracle cards as she learned from her teacher and through thousands of readings.  We start with oracle card basics such as finding the right deck, caring for them and preparing the cards.  You will learn different card spreads, work with multiple decks, do readings for yourself as well as how to do daily, weekly, monthly or yearly angel forecasts.
Join us for an educational and fun workshop to deepen your Divine connection and guide you through your lessons in Earth School.